About Dampere Metal
To help you get an idea of our business and activity, we are going to start off with an overview of our client base and the services we offer. We provide fencing for schools, railings for homes, privacy screens for childcare centres, unique facades for shopping malls, metal blackout panels for hospitals, and interior design elements for hotels and restaurants.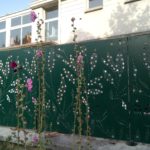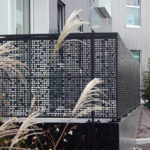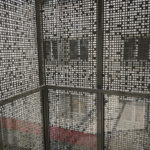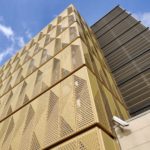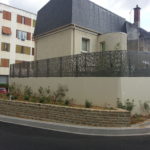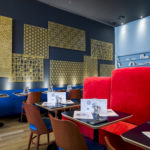 In terms of building projects, we operate within the metalwork, carpentry, locksmith, and ironwork fields to deliver the kind of remarkable added value that Dampere has come to be known for. Our professional activity is based around two offers, the first being custom-made panels (dampere.fr) and the second being standarised metal panels (dampere-metal.com).
As part of an industrial approach to reduce costs and production time, we capitalise on the know-how gained from "custom" projects in order to design, program production, store, and distribute standard metal panels on a mass scale.
Architects and craftspersons reach out to Dampere for original graphics, for the optimisation of the transparency effect or the attainment of an optical illusion effect in products that have already been tested on the market. This eliminates the risk of misjudgement when aiming for an optimal effect.
We take pride and joy in turning metal parts into prisms of light to furnish your interior space and enhance the look of your facades. You will be astonished by the aesthetic impact of the light filtering through these decorative panels.
These aesthetic effects are the result of very careful cuts, precisely finished shapes, completely irregular and random shape diffusions, abstract and disruptive textures…all of which are held up to a high standard of architectural quality.
Our unrivaled work ethic is reflected in the carefully perforated sheet metal edges where every millimeter makes a difference, the precisely selected radiuses of curvateure, the splines that vary from one pattern to the next, and the pixelation effect that has us working at an infinitely small scale to create a diffuse cluster.
Choosing a pattern for your project can prove difficult when faced with all the viable options in our product range. In case of doubt, we advise you to go with the first model that captures your interest, since this is the one that will ultimately bring you the most satisfaction.
We love our products. Our dynamic, multidisciplinary team is made up of an architect, a designer, an engineer, a building technician, salesmen, a computer scientist, and a logistician working together in a domain world that unites art and metal as part of a truly engaging experience.
We aim to surprise you and listen to your needs in order to continously improve our offer, remain fresh and inspiring, and embark on a mutual journey of discovery as we strive to give you the best project experience.
Founded 10 years ago, Dampere first began with the desire to explore the notion of transparency in a different way. We envisioned a poetic, delicate, and artistic rendering complemented by technical and industrial rigour. The thought gradually took shape, the motifs materialised, and the team united to structure the business. The initial projects took place shortly afterwards, first in France and then in Belgium, Luxembourg, Switzerland, the Netherlands, and Germany.
Nowadays, we make monthly deliveries of over 1,000 m² of decorative panels to approximately fifty clients.
We hope to count you among them soon!